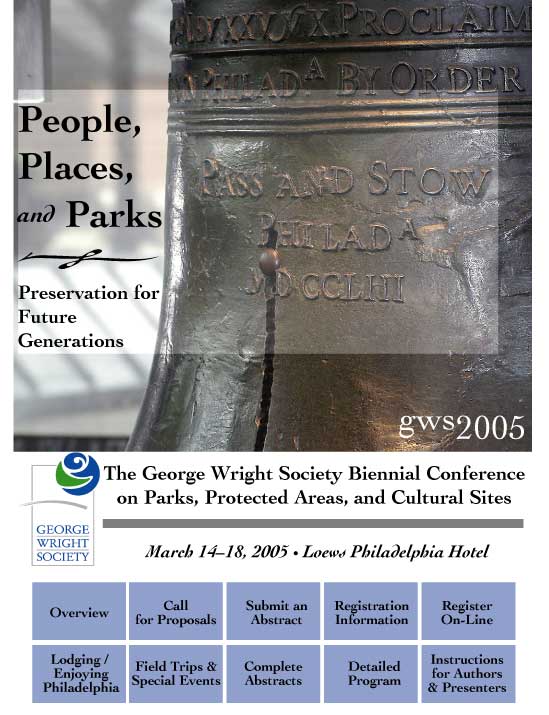 Supported by:
U.S. National Park Service
U.S. Geological Survey
NOAA's National Marine Sanctuary Program
Eastern National
Booz Allen Hamilton, Inc.
---
POSTED March 22, 2005: Over 750 people attended GWS2005! It was a stimulating week, with people from a wide range of backgrounds in natural and cultural resources sharing their experiences in over 130 sessions. You can use the links above to explore what happened in Philadelphia. Or, if you'd like a hard copy of the 180-page Program and Abstracts Book, send us a check for $2.00 to cover postage and we'll be glad to send one while supplies last.
---
POSTED May 10, 2005: You can download a PDF slide show with over 300 images from the conference taken by Charles Rafkind of the USNPS. Chuck's pictures really capture the atmosphere of the conference week.
Once you've downloaded the file — which, be forewarned, is large, about 36 Mb — just use Adobe Acrobat (full version) or Acrobat Reader to open the file. You should get an Adobe Picture Tasks plug-in box. In that box, click "Play" and the slide show should launch. To quit the show, hit ESC. Each slide should appear on screen for 5 seconds before cycling on to the next image. Viewing the whole slide show should take about 25–30 minutes, depending on your computer.
---
Don't miss out on the 2007 conference — send an email to info@georgewright.org and we'll make sure you get notified when the Call for Proposals comes out in the summer of 2006.
---
GWS2005: THE WEEK AT A GLANCE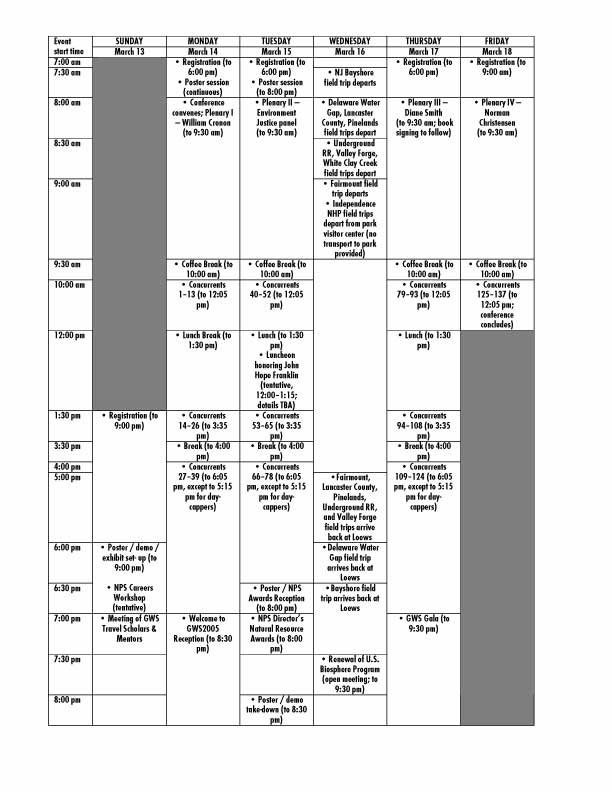 ---
Photo above: a detail of the Liberty Bell in Independence National Historical Park.