Back Issues of the George Wright Forum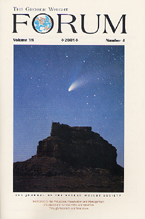 Box Sixty-Five:
Using Numbers that Count: Information or Revelation?
Mark R. Peterson
A Dialogue on the Natural Resource Challenge
Dale B. Engquist
PROTECTING DARK SKIES
Guest Editor: Joe Sovick
Toward an Appreciation of the Dark Night Sky
Joe Sovick
The Value of Dark Skies and of High-Quality Night Lighting—Building Public Awareness
Elizabeth M. Alvarez del Castillo and David L. Crawford
The Ultimate Cultural Resource?
Jerry Rogers and Joe Sovick
Preserving Pristine Night Skies in National Parks and the Wilderness Ethic
Dan Duriscoe
Let There Be Dark: The National Park Service and the New Mexico Night Sky Protection Act
Jerry Rogers and Joe Sovick
Visual Estimations of Night Sky Brightness
Chadwick A. Moore
Modeling Light Pollution from Population Data and Implications for National Park Service Lands
Steve Albers and Dan Duriscoe
Stargazing—A Driving Force in Ecotourism at Cherry Springs State Park
Thom Bemus
Chaco's Night Lights
Brad Shattuck and G. B. Cornucopia
Light Pollution and Marine Turtle Hatchlings: The Straw that Breaks the Camel's Back?
Mark Nicholas
Yellowstone by Night
Lynn Chan and Eleanor Clark
---
Click (or right-click) on the links to download a PDF version of the article.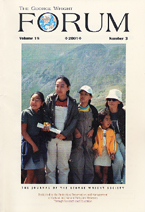 A Tribute to Robert Belous
William E. Brown
CROSSING BOUNDARIES IN MANAGING RECREATIONAL USE OF NATIONAL PARKS AND RELATED AREAS
Guest Editor: Robert Manning

Introduction: Crossing Boundaries in Managing Recreational Use of National Parks and Related Areas
Robert Manning
Crossing Experiential Boundaries: Visitor Preferences Regarding Tradeoffs Among Social, Resource, and Managerial Attributes of the Denali Wilderness Experience
Steven Lawson and Robert Manning
Integrating Resource, Social, and Managerial Indicators of Quality into Carrying Capacity Decision-Making
Peter Newman, Jeff Marion, and Kerri Cahill
Managing National Parks in a Multi-Cultural Society: Searching for Common Ground
Myron Floyd
Bridging the Gap: Integrating Subsistence Issues into Indicator-Based Recreation Planning
Daniel Laven, Robert Manning, Darryll Johnson, and Mark Vande Kamp
Norm Stability: A Longitudinal Analysis of Crowding and Related Norms in the Wilderness of Denali National Park and Preserv
James Bacon, Robert Manning, Darryll Johnson, and Mark Vande Kamp
Crossing Methodological Boundaries: Assessing Visitor Motivations and Support for Management Actions at Yellowstone National Park Using Quantitative and Qualitative Research Approaches
William Borrie, Wayne Freimund, Mae Davenport, and Robert Manning
Thinking and Acting Regionally: Toward Better Decisions About Appropriate Conditions, Standards, and Restrictions on Recreation Use
Steven McCool and David Cole
Diversity in Outdoor Recreation: Planning and Managing a Spectrum of Visitor Opportunities In and Among Parks
Cynthia Warzecha, Robert Manning, David Lime, and Wayne Freimund
Conserving Recreation Diversity: Collaborating Across Boundaries
Glenn Haas
Crossing Programmatic Boundaries: Toward a More Integrated Approach to Planning and Managing the Visitor Experience
Megha Budruk, Daniel Laven, Robert Manning, William Valliere, and Marilyn Hof
---
Click (or right-click) on the links to download a PDF version of the article.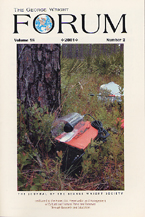 Box Sixty-Five:
Thoughts on the Artic Refuge's Future
William E. Brown
---
The Human Element
Roger Kennedy
The U.S. National Amphibian Research and Monitoring Initiative and the Role of Protected Areas
Russell J. Hall and Catherine A. Langtimm
Searching for Biological Specimens from Midwestern Parks: Pitfalls and Solutions
James P. Bennett
---
PROTECTED AREAS IN EAST ASIA: AN OVERVIEW AND TWO CASE STUDIES
Twenty-first Century Strategies for Protected Areas in East Asia
David Sheppard
Establishing Protected Areas in the Philippines: Emerging Trends, Challenges, and Prospects
Rafael G. Senga
Conservation of Protected Areas in Thailand: The Case of Khao Yai National Park
Pakkawadee Panusittikorn and Tony Prato
---
Click (or right-click) on the links to download a PDF version of the article.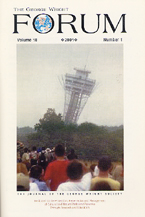 Box Sixty-Five:
A Second Century of Stewardship: Mission 2016
John Donahue
---
Wilderness and Natural Resource Management in the NPS: Another View
Bob Krumenaker
Sizes of Canadian National Parks and the Viability of Large Mammal Populations: Policy Implications
Martine Landry, Vernon G. Thomas, and Thomas D. Nudds
The Taking of the Gettysburg Tower
John Latschar
The War for the Future: Mountain Bikes and Golden Gate National Recreation Area
Hal K. Rothman
The Zapovedniks of Russia
Natalia Danilina
Consuming Nature: The Uneasy Relationship between Technology, Outdoor Recreation, and Protected Areas
John Shultis
Ecological Studies of Bison in the Greater Yellowstone Area: Development and Implementation
Peter J.P. Gogan, John A. Mack, Wayne G. Brewster, Edward M. Olexa, and Wendy E. Clark
---
Click (or right-click) on the links to download a PDF version of the article.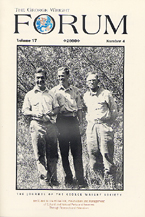 Box Sixty-Five:
The Path Not Taken: National Park Service
Rchard West Sellars
---
Celebrating George Wright:
A Retrospective on the 20th Anniversary of the GWS
George Wright's Vision: What Does It Mean Today?
David Harmon
A Personal Tribute
Pamela Wright Lloyd
George Melendez Wright, 1904-1936: A Voice on the Wing
Jerry Emory and Pamela Wright Lloyd
The Significance of George Wright
Richard West Sellars
A Summary List of George Wright's Field Notes
Compiled by Jerry Emory
A George Wright Bibliography
Compiled by Jerry Emory
The Magic Window
George M. Wright
---
Mosquitoes and Public Health: Protecting a Resource in the Face of Public Fear
Constantine J. Dillon
Ah! Wilderness
William E. Brown
---
Click (or right-click) on the links to download a PDF version of the article.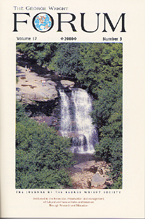 Box Sixty-Five:
The Role of Inventory in Resource Stewardship
William R. Supernaugh

---
The State of State Parks
Our State Parks
Maurice H. Schwartz

State Park Beginnings
John Henneberger

Integrating Cultural and Natural History in State Park Management
Rebecca Conard and Michael Carrier

Building a Constituency for State Parks: The Missouri Experience
Susan Flader

The Implications of Sponsorship for State Park Management
Rick Barton

The Design and Value of Service Learning Partnerships in State Parks
Michael A Reiter, James P. Eagleman, and Jenna Luckenbaugh

News from the State Park Directors
Glen D. Alexander
Challenges Facing State Parks
Paul Pritchard

---
Estimating the Tourism Volume and Value in Protected Areas in Canada and the USA
Paul F. J. Eagles, Daniel MvLean, and Mike J. Stabler

Conservation of the Sea Using Lessons from the Land
Bradley W. Barr and James Lindholm

---
Click (or right-click) on the links to download a PDF version of the article.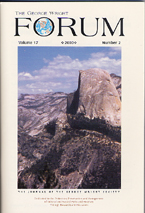 Box Sixty-Five:
The Yellowstone Genetic Reservoir--Quandaries and Consequences of Exotic Introduction in Yellowstone National Park: A Consersation Between A Science Person and a Humanities Person
Paul Schullery anbd John D. Varley

---
Taking Stock: Changing Ideas and Visions for Parks
Taking Stock
Paul M. Bray

Park, Forest, and Wilderness
Ethan Carr

From Management to Stewardship: The Making and Remaking of the U.S. National Park System
Rolf Diamant

Postcards from Home
Judith M. LaBelle

Parks for the Future: A European Perspective
Roberto Gambino

The Evolving Shift in Protected Area Thought and Practices
J. Gordon Nelson and Lucy M. Sportza

Conservation Without Frontiers: The Global View
David Sheppard
---
Conservation Area Network in the Southern Appalachians
Hugh Irwin and Susan Andrew

Resource Protection in the World's Largest Urban Park: A Model for Partnership Between Parks, Higher Education, and the Community
Steven E James and Tim Martin

Legislative Practice and Nature Protection in Russia's Kola Peninsula
Sergey Shestakov and Valery Barcan

---
Click (or right-click) on the links to download a PDF version of the article.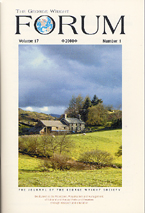 Box Sixty-Five:
The Great Transition
William E. Brown

---
Landscape Stewardship: New Directions in Conservation of Nature and Culture
Introduction
Jessica Brown, Nora Mitchell, and Fausto O. Sarmiento

Protected Landscapes: A Conservation Model for the 21st Century
Michael Beresford and Adrian Phillips

World Heritage Cultural Landscapes
Mechtild Rossler

Protected Landscapes and Cultural Landscapes: Taking Advantage of Diverse Approaches
Nora Mitchell anbd Susan Buggey

From the Caribbean to the Pacific: Community Conservation in Small Island States
Giles Romulus and P.H.C. Lucas

Andean Stewardship: Tradition Linking Nature and Culture in Protected Landscapes of the Andes
Fausto O. Sarmiento, Guillermo Rodriguez, Miriam Torres, Alejandro Argumedo, Mireya Munoz, and Jack Rodriguez

The Stewardship Appraoch and its Relevance for Protected Landscapes
Jessica Brown and Brent Mitchell

---
Prioritizing the Research and Monitoring Needs of Terrestrial Mammals in National Parks
Lisa Kay Garrett and R. Gerald Wright
Books in Brief
reviewed by David Harmon

---
Click (or right-click) on the links to download a PDF version of the article.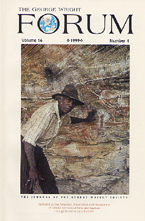 Box Sixty-Five:
The USNPS Natural Resource Challenge: It's Not About Money, It's About Priorities
Karen P. Wade

---
Archaeology and the National Park Idea
: Challenges for Management and Interpretation
Introduction
John H. Jameson, Jr.

Loving it to Death: The Gran Pajaten Predicament
Warren B. Church

The Battle for Sydney Harbour
Denis Gojak

Management Strategies and the Component of Indigenous Sacred Places: The Dreaming and Aboriginal Involvement in Site Management within Northern Territory National Parks, Australia
Ken Mulvaney

Expanding Horizons: Environmental and Cultural Values within Natural Boundaries
Judith Powell

Archaeology and Rocky Mountain Ecosystem Management: Theory and Practice
Martin Magne

History, Politics and Culture: Archaeology and Interpretation in British National Parks
Harold Mytum

The Genius of the Place: Managing a "Mini-National Park" at Bede's World
Peter Fowler and Miriam Harte

Developing a management Plan for the Ironbridge Gorge World Heritage Site
Mation Blockley

---
Reinterpreting the Cultural Landscape of Chalmette Battlefield: Landscape Management Strategies for Parks with Multiple Layers of History
Kevin Risk

---
Click (or right-click) on the links to download a PDF version of the article.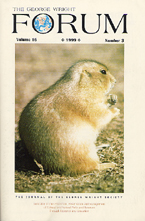 The National Park Service's Management Policy in the 21st Century
Introduction: Recommitting to Stewardship
Michael A. Soukup

National Park Service Management Policies for the National Park System
John G. Dennis

Interpreting Wildlife Management Policy to Meet Individual Park Needs
William R. Supernaugh

Wild Life is More than Wildlife: Policy for Other Animals in the National Parks
Michael A. Ruggiero

Wildlife Management in an Ecosystem Context: The Role of Vegetation in Management and Policies
Linda L. Wallace

Using the Past to Shape National Park Service Policy for Wild Life
Ruthann Knudson

Values, Science, and Policy: How Best to Serve the National Parks
Frederic H. Wagner

Absolutely American and Absolutely Democratic: National Parks and Policy Change
John C. Freemuth

The Partnership Between Park Wild Life Management Policy and Lanscape Wild Life Management Policy: How Shall We Then Manage?
William L. Halvorson and Chris Eastin

Key Differences in Thought in Science and Values Regarding National Park Service Wildlife Management Policies
Thomas M. Franklin

---
Click (or right-click) on the links to download a PDF version of the article.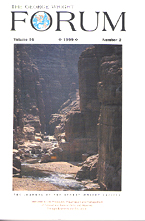 Box Sixty-Five:
The Four R's as an Rx for the Andes... and Elsewhere?
Lawrence S. Hamilton

---
Measuring Up Responsibly: Assessing Protected Areas Through State of Environment Reporting and Indicators
Overview: The Importance and Principles of State of Ecosystems Reporting and Indicators
Ed B. Wiken

Continental Focus--Reporting on North America: Continental Connection
Irene Pisanty-Baruch, Jane Barr, ed B. Wiken, and David A. Gauthier

National Focus--Report

ing Indicators for Protected Areas and Ecosystems: A Natural Perspective
Anthony M. Turner, Ed B. Wiken, and Nikita Lopoukhine

Regional Sector Focus--Reporting on Macro-Ecosystems: The Great Plains of North America
David A Gauthier and Ed B. Wiken

Resource Sector Focus--Reporting and Indicators: Mechanisms in Ecologically Sustaining the Forested Sector
Judy Loo and Harry Hirvonen

---
A Private Affair: Nature Reserves in the Hashemitte Kingdom of Jordan
G.W. Burnett and Ingrid Schneider

Why Don't parks and Sanctuaries Protect Marine Fish Too?
Gary E. Davis

---
Click (or right-click) on the links to download a PDF version of the article.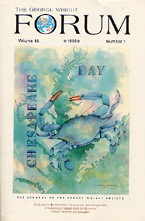 Box Sixty-Five:
Fuzzy Logic and National Park Service Policy
R. Gerald Wright
---
The New Research Mandate for America's National Park System: Where It Came From and What It Could Mean
David Harmon

---
The Chesapeake Bay Program: Science, Politics, and Policy
The Chesapeake Bay: Nature in the Cultural Environment and Cultural History in the Natural Environment
Kent Mountford

George Washington Birthplace National Monument: A Chesapeake Bay Park--Or, Why Study Nature in the Cultural Environment?
John Donahue

The Chesapeake Bay Program: Its Origins and Significance
William Matuszeski

Rhinos and Tigers and Bays (Oh My!), and Other Congressional Tales
Peter J. Marx

Local Reins on a Sprawling Land
Gary G. Allen and Susan N. Hall

Bringing Back the Bay: The Role of Science in Making Policy
Jack Greer
Chesapeake Information Management System and the World Wide Web
Lowell Bahner

The National Park Service: Filling Our Roles in the Chesapeake Bay Program
Robert D. Campbell

One Park and the Chesapeake Bay: The Colonial Experience
Charles D. Rafkind

---
Click (or right-click) on the links to download a PDF version of the article.