Who was George Melendez Wright?


George Melendez Wright was born into a wealthy sea captain's family in 1904. His father, John Tennant Wright, a native of San Francisco, and his mother, Mercedes Melendez, who was from El Salvador, both died when George was a young boy and he was raised by an aunt. As a child he roamed the San Francisco Bay area and came to love and to know its plants and animals. In college he studied with famous naturalists of the day, including zoologist Joseph Grinnell. In 1927, as an assistant park naturalist in Yosemite Valley, he became concerned about the disappearing Tule elk, the overabundance of tame mule deer, the scarcity of predators, marauding black bear already accustomed to being fed garbage, and the impacts of hunting and trapping along the park's boundaries. Scientific wildlife conservation and management had not yet become an institutionalized part of park management.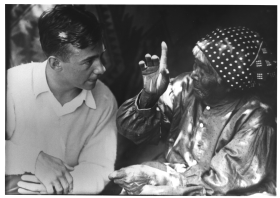 In 1929 Wright did something about his concerns by initiating a wildlife survey program (which he himself funded) for the national parks then extant in the United States. In 1930 he became the first chief of the wildlife division of the U.S. National Park Service, and under his leadership each park started to survey and evaluate the status of wildlife and to identify urgent problems. Recommendations for restoration were generated, and special attention was paid to rare and endangered species, conflicts, and sources of problems. This formative work led to recommendations that were published in 1932 as Fauna of the National Parks of the United States, a Preliminary Survey of Faunal Relations in National Parks, which became the first of the important "Fauna" series--publications detailing the results of surveys and research, and recommending various management procedures to maintain natural conditions in protected areas. Wright associated with the conservation luminaries of his day, and with them worked on conservation projects beyond the national parks. He influenced the nationwide planning for public parks and recreation areas and was named to a commission to work with Mexico in identifying and establishing new areas along the international boundary. In February 1936, while working on the commission, Wright was killed in an automobile accident, his life cut short when he was not quite 32 years of age. Had he lived, he likely would have become one of America's foremost conservationists.
Wright's contributions are distinguished by a keen perception of ecological problems: he recognized that, even then, protected areas were not biological islands that can stand aloof from the rest of the world. Importantly, he also grasped the significance of long-term human influences on the North American landscape. He was one of the first protected area professionals to argue for a holistic approach to solving research and management problems, rather than separating them into mutually exclusive natural and cultural resource categories. As one historian has written, George Wright's "vision of national park management was truly revolutionary, penetrating beyond the scenic façades of the parks to comprehend the significance of the complex natural world." With its name, the George Wright Society honors his vision.
[The photo above, taken in July 1929, shows George Wright listening to Totoya (later known as Maria Lebrado), a granddaughter of Chief Tenaya and possibly the last person to have known Yosemite Valley before European contact. Yosemite Nature Notes for September 1929 remarked that Lebrado had been "an interesting and distinguished visitor" to the park museum, and that Wright and his colleague Ben Thompson had "endeared themselves to Maria by their kindliness and their ability to speak to her in Spanish." Haga clic aquí para la información sobre Wright en español.]
PBS page on George Melendez Wright from the "National Parks: America's Best Idea" film website