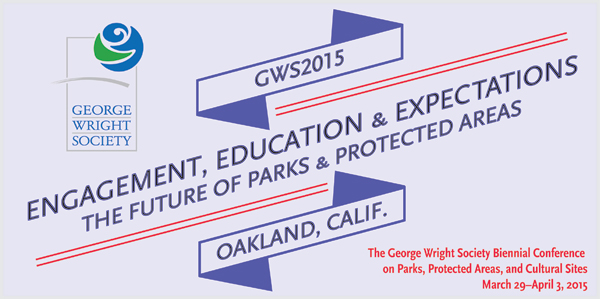 The Bay Area is about to get another bridge! The 2015 George Wright Society Conference falls between three major events in parks and conservation: the World Parks Congress last November in Sydney, Australia; and both the US National Park Service Centennial and World Conservation Congress in Hawaii in 2016. The GWS program includes a number of sessions specifically designed to act as a "bridge" between these important meetings, bringing information to attendees about what happened in Sydney, what's in store for the USNPS Centennial, and what the early plans are for the World Conservation Congress.
By bridging these three events, GWS2015 presents an opportunity to reflect on global trends in protected areas. In a closing plenary panel at GWS (Thurs Apr 2) titled "One World: North American Park Leaders Respond to "The Promise of Sydney" ... and Prepare for the USNPS Centennial and the 2016 World Conservation Congress," NPS Director Jonathan B. Jarvis and Parks Canada CEO Alan Latourelle will reflect on the Promise of Sydney with respect to parks and protected areas in North America.
But there's more! Here are some of the other sessions at GWS2015 that will help attendees cross the bridge from Sydney to Hawaii.
Focus sessions
The US National Park Service Centennial (Weds Apr 1)

USNPS celebrates 100 years of existence in 2016, and the agency is placing lots of attention on the event. A report from the USNPS team in charge of the 2016 centennial activities.
The World Parks Congress' Promise of Sydney – Implications for North America's Protected Areas (Weds Apr 1)

The IUCN Chair of the World Commission on Protected Areas (WCPA), Ernesto Enkerlin, and the Vice Chair of the WCPA -North America Region, Mike Wong, invite all WCPA members and other GWS participants to a focus session on summary presentations by leaders of the 8 Streams and 4 cross-cutting themes of the World Parks Congress (http://worldparkscongress.org/programme/streams.html). This will be followed by a panel discussion where all attendees can express their views on the Promise of Sydney - the global strategy document of innovative approaches and recommendations for protected areas in the next decade - and provide their perspectives on how best to proceed with its implementation.
Inspiring a New Generation (Thurs Apr 2)

One of the streams at the World Parks Congress in Sydney was about inspiring young people to get involved with parks and protected areas. Parks Canada led the stream at the WPC and leaders from Parks will be on hand to discuss next steps.
Concurrent sessions
Beyond Sydney: Achieving Our Goals for the Next Decade of Marine Conservation (Tues Mar 31) • Participants will examine recommendations and global, regional and national goals for MPAs, including a community-based approach, and provide practical, grounded advice about moving forward.
The Promise of Protected Areas in an Era of Change (Weds Apr 1) • This session will highlight key elements and outcomes from the Responding to Climate Change Stream at the 6th IUCN World Parks Congress in Sydney.
Renewing North American engagement in international protected area programs (Weds Apr 1) • This workshop will plan a future for North American support to the international protected area programs on World Heritage, Biosphere Reserves, Geoparks and Ramsar Sites.
Nature's transformational power: health metrics and measures linked to Healthy Parks Healthy People (Weds Apr 1) • This session provides examples and discussion of programs and research demonstrating the transformational power of parks to provide physical and psychological health and wellbeing opportunities.
The IUCN WCPA Protected Area Capacity Development Initiative (Weds Apr 1) • Learn about how you can be involved in the programs featured at the World Parks Congress that can improve global protected area management capacity.
The Futures of Privately Protected Areas: Results of a global assessment (Thurs Apr 2) • Presenting a first-of-its kind global assessment of privately protected areas, and discussion on future opportunities.