GWS2015: Archive of PowerPoint presentations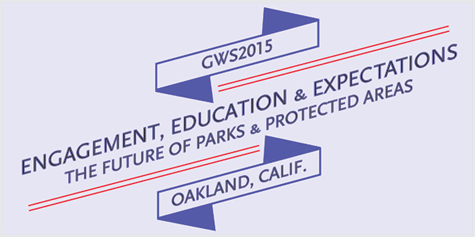 Below you will find PDF versions of some of the PowerPoint presentations that were made at GWS2015.
Comparing sea level rise and storm surge modeling methods for Northeast coastal National Parks • Amanda Babson, Michael Bradley, and Maria Caffrey
The Potential of Using Landscape Conservation Cooperatives to Implement the Vision of Revisiting Leopold • Amamda Babson et al.
The Role of Universities in Protected Area Management • Jim Barborak
The Role of Community Outreach and Interpretive Actions in Protecting Historic Park Resources • Mario Battaglia, Casey Campetti, Maija Glasier-Lawson, Hilary Miller, and Stephanie Sullivan
Applications of Remotely Piloted Aircraft Systems (RPAS) to Wildlife Research and Management • David M. Bird
Rocky Mountain National Park & Our Sister Park Relationships • Ben Bobowski
The Challenge of Recovering Endangered Mountain Yellow-legged Frogs in Sequoia and Kings Canyon National Parks • Danny Boiano
Urban Biodiversity & People: Connecting City Dwellers to Nature in the City • Peter Brastow
An Assessment of Stormwater Improvement Opportunities at Santa Monica Mountains NRA (SAMO) • Christy Brigham and Felicia Federico
Advocating for Natural Resources in the Heat of Incident Management • Karl Brown and Richard Schwab
The University of Florida Unmanned Aircraft Systems Research Program:Lessons Learned and an Update on Selected Natural Resources Applications • Matthew A. Burgess, R.R. Carthy, B.E. Wilkinson, T.J. Whitley, T.S. Ward, J.G. DiRodio, P.C. Frederick, P.G. Ifju, S.E. Smith, A.H. Abd-Elrahman, and H.F. Percival
BioBlitz: Engaging the the Public through Community Science • Nancy Caplan, Alison Forrestel, Michelle O'Herron
An Overview of Salmon Recovery in the Elwha River Following Dam Removal • Pat Crain
5 Qualities and Beyond: Integrating Wilderness Character in the National Park Service • Erin Drake, Chris Holbeck, Brenda Todd, Christina Miller, and Tim Devine
The IUCN WCPA Protected Area Capacity Development Initiative • Ernesto Enkerlin Hoeflich
The Big Picture: Mercury in the National Parks and the Dragonfly Mercury Project • Colleen Flanagan Pritz
Reintroduction of Bighorn Sheep to the Great Western Divide • Daniel Gammons, Alex Few, and Tom Stephenson
TURTLE T.H.i.S. (Teens Helping in the Seashore): A Citizen Science Project • Amber Giove, Matt McGregor, Beckie Mims, Mark Nicholas, Tom Stanley, Susan Teel, and Jeremy White
Ecosystem Carbon to Reduce Climate Change • Patrick Gonzalez
Eradication of Nonnative Trout and the Response of Threatened Bull Trout at Crater Lake National Park: Extending Conservation Across Park Boundaries to a Watershed Scale • David K. Hering and Mark W. Buktenica
Enhanced Florida Bay Protection and Experiences—How Active Stakeholder Participation Secured the New Vision • Fred Herling
NPS Benefits Sharing • Ann Hitchcock, John Dennis, Linda Drees, and Carla Mattix
Inspiring a New Generation: Its Future Legacy • Elaine Hsiao
World Parks Congress: Empowering Inspired Young People • Elaine Hsiao
A novel application of GPS and sensor data exploring micro-level site displacement among Yosemite Wilderness visitors • Susie Irizarry and Troy Hall
World Heritage, Wilderness and Large LandscapesTowards IUCN Thematic Guidance • Cyril Kormos
IUCN World Conservation Congress, Hawai'i 2016 • Melia Lane-Kamahele
Competing Demands: Managing Cultural, Natural, Recreation and Historic Resources in Fort Ward Park • Elisabeth Lardner and Laura Durham
Sustainable Transportation in the National Parks • Steven Lawson
History of Geology and Geologic Resource Management in the U.S. National Parks • Ken Mabery
Yosemite Valley—Experiencing a Naturally Cultural Landscape • Linda Mazzu, Kevin McCardle, Sue Beatty, Garrett Dickman, Gus Smith
From Sister Parks to Family Parks: Exploring New Concepts to Network Common Themes • Herb Meyer
Applied Climate Change Science Supporting National Park Management in the US Northern Rockies and Appalachians • Bill Monahan
Communities of Practice Beyond our Borders: Building an International Program at Yosemite National Park • Don L. Neubacher et al.
Development of Shale Oil and Gas Through High Volume Hydraulic Fracturing: Scale, Scope, and Concerns • Lisa Norby
Mexico Sister Parks • Jonathan Putnam
Sharing Lessons Learned NPS Sister Park Relationships • Jonathan Putnam
Sister Park Relationships – Moving Beyond Park to Park • Jonathan Putnam
Merging Economic Reality with Park Stewardship: Learning from the Presidio and Other Models • John Reynolds
Wilderness Air Tour Noise Assessment Framework • Judy Rocchio, Megan McKenna, Brent Lignell, Amanda Rapoza, Cyndy Lee, Vicki Ward
Redwood Creek Restoration at Muir Beach, 2009-2014 • Carolyn Shoulders
Integrating visitor use management and commercial services • Jennifer Stein
Tri-CED Community Recycling and Masonic Homes of California • David Stronck
Engaging on Climate Change • Charisse Sydoriak
Climate change adaptation in a fire-adapted landscape in the Southern Sierra Nevada • Charisse Sydoriak & Koren Nydick
"Climate-smart" Resources Stewardship Strategy (RSS)? Yes we can • Charisse Sydoriak and Koren Nydick
The Impacts of Mountain Biking on Wildlife and People — A Review of the Literature • Michael J. Vandeman
Planning for a System of Protected Areas in the Capital Regional District of British Columbia • Jeff Ward
The Complex Case of Colorado's Cutthroat Trout in Rocky Mountain National Park • Mary Kay Watry
Achieving Regional Metropolitan Area Nature Conservation: Ingredients for Success • Lynn Wilson
Engaging People through Climate Change Science and Adaptation in Alaska • Robert Winfree, Bud Rice and John Morris
The complex future of parks: effects of climate change on invasive species in protected ecosystems • Daniel E. Winkler, Michael L. Goulden, Gaku Kudo, Lara M. Kueppers, and Travis E. Huxman