The Indigenous Involvement Working Group: Helping Plan GWS Involvement with Indigenous Peoples
Since 2007, the GWS has convened an Indigenous Involvement Working Group to help plan Indigenous-related activities at the GWS biennial conferences, including overseeing the Indigenous Participant Travel Grant Program. Here you can meet the current members of the Indigenous Involvement Working Group.
Deanna Beacham (Weapemeoc)

Deanna Beacham (Weapemeoc) is the American Indian Program Manager for the National Park Service Chesapeake Bay Office and the Captain John Smith Chesapeake National Historic Trail. She manages the Indigenous Cultural Landscape research for NPS and works with the Trail's 15 American Indian partners. Previously Deanna served as American Indian Specialist in the Virginia governor's office for nearly a decade.
Deanna received her Bachelor of Science degree from Duke University and an MA in clinical psychology from the University of Colorado. She worked in information technology for more than 20 years before turning her longtime advocacy for American Indians into a second career.
In 2010, Deanna authored the Indigenous Cultural Landscape concept, which was included in the Comprehensive Management Plan for the Captain John Smith Chesapeake National Historic Trail. The ICL was first presented at the 2011 George Wright Society Conference. Since then, Deanna has been working with others on outreach and implementation of the concept for use in land conservation, education, heritage tourism, and Native interpretation on protected lands. ICLs are considered trail related resources to the John Smith Trail, and NPS Chesapeake has been researching and mapping these landscapes since 2012.
M. Melia Lane-Kamahele (Native Hawaiian)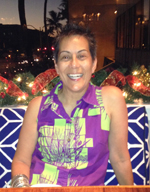 As a career employee with the NPS for almost 30 years, Melia has served in a variety of positions starting as a Cartographic Technician in the Pacific West Regional Office in Honolulu in 1986. She served as the Management Assistant in the Pacific West Region, Honolulu Office for 6 years and currently is the Manager, Pacific Islands Office, Pacific West Region – Honolulu. A Cartographer by training, she held positions of increasing complexity and served as the supervisory cartographer/GIS coordinator for the Pacific Area parks. Her primarily role in that position was to coordinate with parks, partner agencies and others to facilitate GIS and geospatial data programs in the 11 parks in the Pacific Islands and Trust Territories of the Pacific Basin whose geographical area spans multiple time zones, ecosystems, and cultures.
Melia was the first Native Hawaiian employee at Kaloko-Honokohau NHP. Other positions held have included Management Assistant at Fort Vancouver NHP during her USDA Executive Leadership Program in 2006-2007 as well as opportunities to serve as the acting Pacific Area Director and Acting Superintendent at the National Park of American Samoa on several occasions.
After receiving her Bachelor's degree in Geography from the University of Hawaii at Manoa in 1980 with a major in Geography and minor in Hawaiian Studies, she specialized in historical geography and cartographic production; she went on to complete a Master's degree in Geography from the same university in 1986. Her M.A. thesis was a study of the migration of Native Hawaiians from Hawaii to coastal British Columbia, Canada, between 1810 and 1869. In December 2008, Melia completed an A.A. in Science (Paralegal) degree from Kapiolani Community College in Honolulu, Hawaii. She has provided paralegal support for the Pacific parks for more than 10 years.
Melia has served on a variety of national, regional and local committees and working groups focusing on GIS, cultural and natural resources management issues, policy and park planning. She chaired the National Park Service's Pacific West Region Cultural Resources Advisory Committee for 11 years; served on the Regional Science and Resources Task Force; and the Pacific West Region GIS Committee and the National GIS Committee for the NPS. Upon appointment by Governor Waihe'e, she served two terms on the Hawaii Island Burial Council and continues to be active in Native Hawaiian issues related to management and policy, NAGPRA, and a variety of projects pertaining to the indigenous people and diverse cultures of Hawaii and the Pacific Basin. Melia has served on the George Wright Society Board in a number of capacities and continues to work with the Native Involvement Working Group and Conference Planning committee for the upcoming 2017 conference in Oakland, Norfolk, VA.
She has also been engaged with park planning through the years and she was fortunate to participate in major planning projects for Kaloko-Honokohau NHP, the National Park of American Samoa, the Ala Kahakai National Historic Trail, Kalaupapa National Historical Park General Management Plan, the Ka'u Shoreline Feasibility Study and currently is working as a member of the team assessing the Honouliuli Gulch Confinement Camp as well as other historic resources feasibility studies in the far Pacific.
Melia continues to provide leadership and mentoring to employees to encourage appreciation of cultures and celebrate diversity and serves as a role model for those interested in careers with the agency or in federal service and foster programs supportive of minority applicants. She remains actively involved with publications, collaborative research, and community outreach and education. Her most recent publication was a George Wright Forum NPS Centennial Essay in August 2013, "Considerations of Culture, Community, Change and the Centennial." http://www.georgewright.org/forumlinks/
Angela Mooney D'Arcy (Acjachemen Nation, Juaneno Band of Mission Indians)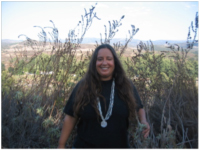 Angela Mooney D'Arcy has been working with Tribal Nations, Indigenous peoples, and grassroots organizations on Indigenous environmental justice issues for over fifteen years. She is the founder and Executive Director of the Sacred Places Institute for Indigenous Peoples (SPI), a Los
Angeles-based, Indigenous-led organization that works to build the capacity of Tribal Nations and Indigenous peoples to protect sacred lands, waters, and cultures. SPI is an Affiliate of the Seventh Generation Fund for Indian Development.
She is the Co-Director of the United Coalition to Protect Panhe (UCPP), a grassroots alliance of Acjachemen people dedicated to the protection of their sacred site Panhe, located within and around San Onofre State Park in San Clemente, CA. Angela serves as the Co-Chair for the North American Indigenous Peoples Caucus and as the Pacific Coordinator for the Regional Action Network Weaver program organized by Native Americans in
Philanthropy. She also serves on the Board of the Blas Aguilar Adobe Museum & Acjachemen Cultural Center located within the ancestral homelands of the Acjachemen/Juaneno people in the area now known as San Juan Capistrano, CA.
She is a recipient of the New Voices Fellowship, a national Ford Foundation-funded program dedicated to cultivating the next generation of social justice leaders, the Earthjustice Sutherland Fellowship, awarded each year to a young lawyer to continue their work in environmental public-interest law, and is a member of the 2012 Circle of Leadership Academy sponsored by Native Americans in Philanthropy and the Center for Leadership Innovation.
She received her B.A. from Brown University and received her JD, with a concentration in Critical Race Studies and Federal Indian Law, from UCLA School of Law.
Freddie Romero (Santa Ynez band of Chumash Indians)
Freddie Romero is a tribal descendent of the Santa Ynez band of Chumash Indians and is
currently employed by the tribal Elders Council, as their Cultural Preservation Consultant.
Mr. Romero represent the Elders Council on issues that impact cultural resources and sacred sites and advocates for the preservation and protection of those sites. Mr. Romero reviews projects from the federal, state, and local agencies, as well as private individuals and prepares comments and drafts on their behalf.
Mr. Romero is responsible for Sec. 106, NEPA and NAGPRA consultation process on their behalf, as well as negotiating and creating MOAs, protocol agreements, and creating cultural resource protection plans on projects for federal agencies.
Peter Lariviere (Anishinaabe – Algonquin)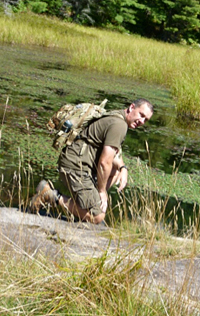 Peter is a career federal public servant, Government of Canada, having started his career in 1992. After working in a number of Federal Government Departments, Peter discovered a home in February 2008 when he joined Parks Canada as a negotiator on Indigenous matters. His work has led him to meet and work with Indigenous community leaders across the country including in Labrador, New Brunswick, British Columbia and the North West Territories. Currently Peter has taken on an assignment role with the Ontario Waterways, Parks Canada, as Manager of Indigenous Relations. Of particular personal importance in this assignment is that Peter is working with the Ontario Algonquin communities which has helped him renew and reconnect with his own community.
Peter holds two undergrad degrees, both from Carleton University in Ottawa, Ontario. His first degree was in geomorphology where he specialized in Karst Geomorphology. Recently Peter completed his Master's Degree (Geography) where his thesis topic was on Metis identity.