Volume 17, #4 (2000)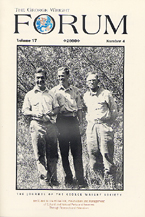 Box Sixty-Five:
The Path Not Taken: National Park Service
Rchard West Sellars
---
Celebrating George Wright:
A Retrospective on the 20th Anniversary of the GWS
George Wright's Vision: What Does It Mean Today?
David Harmon
A Personal Tribute
Pamela Wright Lloyd
George Melendez Wright, 1904-1936: A Voice on the Wing
Jerry Emory and Pamela Wright Lloyd
The Significance of George Wright
Richard West Sellars
A Summary List of George Wright's Field Notes
Compiled by Jerry Emory
A George Wright Bibliography
Compiled by Jerry Emory
The Magic Window
George M. Wright
---
Mosquitoes and Public Health: Protecting a Resource in the Face of Public Fear
Constantine J. Dillon
Ah! Wilderness
William E. Brown
---
Click (or right-click) on the links to download a PDF version of the article.