Volume 16, #2 (1999)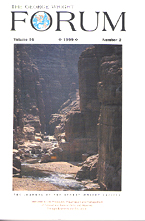 Box Sixty-Five:
The Four R's as an Rx for the Andes... and Elsewhere?
Lawrence S. Hamilton

---
Measuring Up Responsibly: Assessing Protected Areas Through State of Environment Reporting and Indicators
Overview: The Importance and Principles of State of Ecosystems Reporting and Indicators
Ed B. Wiken

Continental Focus--Reporting on North America: Continental Connection
Irene Pisanty-Baruch, Jane Barr, ed B. Wiken, and David A. Gauthier

National Focus--Report

ing Indicators for Protected Areas and Ecosystems: A Natural Perspective
Anthony M. Turner, Ed B. Wiken, and Nikita Lopoukhine

Regional Sector Focus--Reporting on Macro-Ecosystems: The Great Plains of North America
David A Gauthier and Ed B. Wiken

Resource Sector Focus--Reporting and Indicators: Mechanisms in Ecologically Sustaining the Forested Sector
Judy Loo and Harry Hirvonen

---
A Private Affair: Nature Reserves in the Hashemitte Kingdom of Jordan
G.W. Burnett and Ingrid Schneider

Why Don't parks and Sanctuaries Protect Marine Fish Too?
Gary E. Davis

---
Click (or right-click) on the links to download a PDF version of the article.