Volume 16, #1 (1999)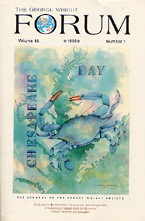 Box Sixty-Five:
Fuzzy Logic and National Park Service Policy
R. Gerald Wright
---
The New Research Mandate for America's National Park System: Where It Came From and What It Could Mean
David Harmon

---
The Chesapeake Bay Program: Science, Politics, and Policy
The Chesapeake Bay: Nature in the Cultural Environment and Cultural History in the Natural Environment
Kent Mountford

George Washington Birthplace National Monument: A Chesapeake Bay Park--Or, Why Study Nature in the Cultural Environment?
John Donahue

The Chesapeake Bay Program: Its Origins and Significance
William Matuszeski

Rhinos and Tigers and Bays (Oh My!), and Other Congressional Tales
Peter J. Marx

Local Reins on a Sprawling Land
Gary G. Allen and Susan N. Hall

Bringing Back the Bay: The Role of Science in Making Policy
Jack Greer
Chesapeake Information Management System and the World Wide Web
Lowell Bahner

The National Park Service: Filling Our Roles in the Chesapeake Bay Program
Robert D. Campbell

One Park and the Chesapeake Bay: The Colonial Experience
Charles D. Rafkind

---
Click (or right-click) on the links to download a PDF version of the article.