Volume 15, #1 (1998)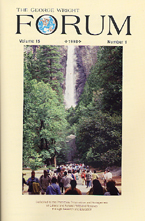 Box Sixty-Five:
"To Provide for the Enjoyment": Recreation Management in the National Parks
Robert E. Manning
---
The Business Connection

The Business Connection: An Introduction
Maurice H. Schwartz

The Foundations of the National Parks: Ideals and Realities
Alfred Runte

The Economic Role of America's National Parks: Moving Beyond a Tourist Perspective
Thomas Michael Power

The Busniness of Parks
T. Destry Jarvis

The Management Implications of Revenue Parks
Rick Barton
A Walk in the Park: Fee or Free?
Shane Miller

NPS and the $300,000 Privy: A Parable for Management
Phil Voorhees and Eileen Woodford

---
In Praise of Platt--Or, What is a 'Real' National Park?
Jacilee Wray and Alexa Roberts

---
Click (or right-click) on the links to download a PDF version of the article.