Volume 21, #2 (2004)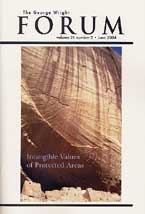 Mission Statements
Reading the Earth: From Wonder to Appreciation
Robert Sterling Yard
Intangible Values of Protected Areas
Intangible Values of Protected Areas: What Are They? Why Do They Matter?
David Harmon
Managing the Intangible
Anthony J. English and Ellen Lee
National Parks as Scientific Benchmark Standards for the Biosphere;
Or, How Are You Going to Tell How It Used to Be, When There's Nothing Left to See?
Gary E. Davis, David M. Graber, and Steven A. Acker
Aesthetic Values and Protected Areas: A Story of Symbol Preservation
Eduardo Crespo de Nogueira and Consuelo Martínez Flores
Battling Religions in Parks and Forest Reserves: Facing Religion in Conflicts over Protected Places
Bron Taylor and Joel Geffen
Life and the Nature of Life—in Parks
Holmes Rolston III
Protected Landscapes in Canada: Current Practice and Future Significance
Guy S. Swinnerton and Susan Buggey
---
Click (or right-click) on the links to download a PDF version of the article.