Volume 20, #3 (2003)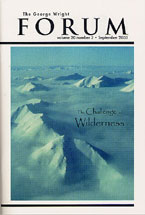 Mission Statements:
Where We Need to Go—Lessons from Septima Clark
Dwight T. Pitcaithley
Science, Emotion, and Advocacy: An Interview with Richard Leakey
THE CHALLENGE OF WILDERNESS STEWARDSHIP
The Challenge of Wilderness Stewardship
David J. Parsons and David N. Cole
Agency Policy and the Resolution of Wilderness Stewardship Dilemmas
David N. Cole
Ecological Restoration in Wilderness: Natural versus Wild in National Park Service Wilderness
David M. Graber
The Challenge of Doing Science in Wilderness: Historical, Legal, and Policy Context
Peter Landres, Judy Alderson, and David J. Parsons
Wolf Handling at Isle Royale: Can We Find Another Approach?
Jack Oelfke, Rolf Peterson, John Vucetich, and Leah Vucetich
Selecting Indicators and Understanding Their Role in Wilderness Experience Stewardship at Gates of the Arctic National Park and Preserve
Brian Glaspell, Alan Watson, Katie Kneeshaw, and Don Pendergrast
Computer Simulation as a Tool for Developing Alternatives for Managing Crowding at Wilderness Campsites on Isle Royale
Steven R. Lawson, Ann Mayo Kiely, and Robert E. Manning
Cultural Resource Management in National Park Service Wilderness Areas: Conflict or Cooperation?
Gary F. Somers
Securing an Enduring Wilderness in the National Park System: The Role of the National Wilderness Steering Committee
Wes Henry and Steve Ulvi
---
Click (or right-click) on the links to download a PDF version of the article.