Volume 27, #3 (2010)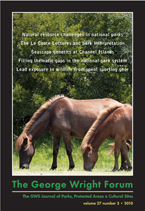 The National Park Service Centennial Essay Series
This Land is Your Land, This Land is My Land: People and Public Lands Redux
Carolyn Finney
The Heart of the Matter:
New essential reading on parks, protected areas, and cultural sites
Beyond Naturalness: Rethinking Park and Wilderness Stewardship in an Era of Rapid Change, edited by David N. Cole and Laurie Yung
---
Natural Resource Challenges in Parks Assessed by NPCA's Center for State of the Parks
Gail Dethloff
"An Orderly, Balanced and Comprehensive Panorama . . . of American History": Filling Thematic Gaps within the National Park System
John H. Sprinkle, Jr.
Measuring Connections in the Sea: Pushing the Boundaries of Seascape Genetics at Channel Islands National Park
Crow White
Smokey Says, "Get Your Ash Off My Beach": Implementing a Smoke-free Beach Policy at Whiskeytown National Recreation Area
Jim Milestone, Nathan Read, and Louis Jarvis
The Le Conte Memorial Lectures and Park Interpretation—A Historical Account
Karen Merritt
Managing the National Park Service in the Information Age
Harry Butowsky
---
Click (or right-click) on the links to download a PDF version of the article.