Volume 30, #1 (2013)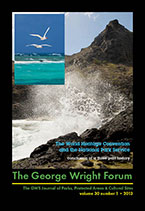 The National Park Service Centennial Essay Series
NPS Design Tradition in the 21st Century
Ethan Carr
Letter from Woodstock
Rolf Diamant
The Heart of the Matter: New essential reading on parks, protected areas, and cultural sites
Museums, Monuments, and National Parks: Toward a New Genealogy of Public History,
Reviewed by John H. Sprinkle, Jr.
The World Heritage Convention and the National Park Service, 1993–2009
Peter Stott
Climate Adaptation Strategies are Limited by Outdated Legal Interpretations
Julie Lurman Joly
Resilience in a Protected Area: Prospects for Fathom Five National Marine Park, Lake Huron, Canada
S.R. Parker and S.D. Murphy
The Requirement to Leave Park Resources and Values "Unimpaired"
Molly N. Ross
Reflections on the Beginning of the George Wright Society and Why It Was Created
Vernon C. (Tom) Gilbert
Are Isle Royale Wolves Too Big to Fail? A Response to Vucetich et al.
Ted Gostomski
John Vucetich, Rolf O. Peterson, and Michael P. Nelson
---
Click (or right-click) on the links to download a PDF version of the article.