Volume 24, #2 (2007)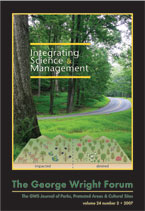 The National Park Service Centennial Essay Series

On the Brink of Greatness: National Parks and the Next Century
Dwight T. Pitcaithle
Integrating Science and Management
Alice Wondrak Biel, Robert E. Bennetts, Bruce B. Bingham, and Andy Hubbard, guest editors
Part I: Essays
Integrating Science and Management: The Road to Rico-Chico
Bruce B. Bingham, Robert E. Bennetts, and Andy Hubbard
Integrating Science and Management: Becoming Who We Thought We Were
Michael Soukup
The Quandaries and Promise of Risk Management:
A Scientist's Perspective on Integration of Science and Management
Bruce G. Marcot
The Role of Science in National Park Service Decision-making
Suzanne Lewis
Information Management: Barrier or Bridge to Integrating
Natural Resources Science and Management?
Bruce B. Bingham
Part II: Case Studies and Papers
The Challenge of Communicating Monitoring Results to Effect Change
Shawn L. Carter, Giselle Mora-Bourgeois, Todd R. Lookingbill, Tim J. B. Carruthers, and William C. Dennison
Linking Monitoring to Management and Planning: Assessment Points
as a Generalized Approach
Robert E. Bennetts, John E. Gross, Kerri Cahill, Cheryl McIntyre, Bruce B. Bingham,
Andy Hubbard, Lane Cameron, and Shawn L. Carter
The Road to Integrating Science and Management:
Planning Your Next Trip Using Hierarchical Objectives and Assessment Points
Shawn L. Carter and Robert E. Bennetts
Integrated Resource Management: Applying the Concepts of Rico and Chico
to Connect Cultural and Natural Resource Management
Andy Hubbard, Kristin Legg, Duane Hubbard, and Christopher Moos
Comparing Current and Desired Conditions of Resource Values for Evaluating
Management Performance: A Cautionary Note on an Otherwise Useful Concept
Robert E. Bennetts and Bruce B. Bingham
Wherein Lies the Heritage Value? Rethinking the Heritage Value of Cultural Landscapes from an Aboriginal Perspective
Lisa Prosper
---
Click (or right-click) on the links to download a PDF version of the article.