Volume 23, #4 (2006)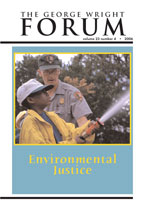 History Repeats? Hydro Dams and the Riverine Ecosystems of Mesoamerica: The Case of La Amistad Biosphere Reserve, Panama, and its Implications
William O. McLarney
Targeting Conservation Easements to Reduce Impacts of Private Land Development on Protected Areas
Tony Prato
Island-specific Ecological Release of Small Mammals in Lake Michigan and Potential Consequences for Ground-nesting Birds: The Importance of American Beech (Fagus grandifolia) in Structuring Small-mammal Communities
J. N. Rosemier and D. J. Flaspohler
Environmental Justice
Gillian Bowser, guest editor
Through the Eyes of a Child: The Many Aspects of Environmental Justice
Gillian Bowser
Fear of the Boom Box: Death Knell for Our Public Lands?
Audrey Peterman
Managers' Perceptions of Issues in Serving Racial and Ethnic Minorities in Urban Parks
Michael A. Schuett and Gillian Bowser
The Challenge of Environmental Justice for Children: The Impact of Cumulative Disadvantageous Risks
Corliss Wilson Outley
Is Curiosity Good for Anybody?
Henry F. Howe
The Concrete Jungle
Gillian Bowser
---
Click (or right-click) on the links to download a PDF version of the article.