The Indigenous Participant Travel Grant Program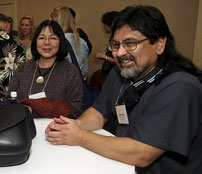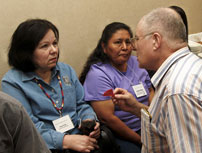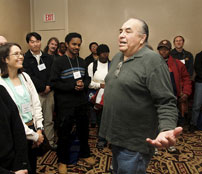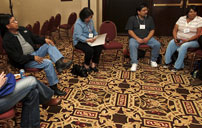 Encouraging Indigenous involvement in the GWS biennial conferences
(Posted January 1, 2017) — The deadline for applying for a travel grant was December 31. We thank everyone who applied. Applicants will be notified before the end of January.
The George Wright Society, in partnership with several funders, offers travel grants to support the participation of Indigenous people at the Society's biennial conferences — one of the leading professional meetings on parks, protected areas, and cultural sites. The next conference will be in Norfolk, Virginia, April 2–7, 2017.
Since its beginnings in 2007, the IPTG program has enabled over 80 Indigenous people to attend the biennial GWS conferences. We are hoping to expand the scope of the program for the 2017 conference.
download the 2-page Indigenous Participant Travel Grant Program invitational flyer
WHY ARE THESE GRANTS BEING OFFERED?
Indigenous people have always protected their homelands, and the example of Indigenous stewardship over the course of centuries provides a standard of care that, we think, can and should inform the management of contemporary protected areas and cultural sites. The GWS would like to promote a continuing conversation between Indigenous and non-Indigenous people involved in placed-based stewardship of natural and cultural heritage. In addition, we want to offer opportunities for Indigenous people to network among themselves.
The interface between Indigenous interests and parks, protected areas, and cultural sites is a realm of great ferment, both in terms of policy and philosophy. To have genuine and critically enriching dialogue, there must be face-to-face engagement between Indigenous and non-Indigenous people. This dialogue can lead to multi-directional learning, improved relationships, new conservation strategies, and expanded vision and planning. The GWS hopes to facilitate this dialogue by offering these travel grants.
WHAT DOES THE GWS CONFERENCE OFFER TO INDIGENOUS PEOPLE?
The GWS conferences date back to 1983. In the past few years — based on feedback from Indigenous attendees — we have made changes to our conference program in order to make sessions more relevant to indigenous people. Since 2007, we have convened an Indigenous Involvement Working Group to help plan Indigenous-related activities at the conference. The working group, which is composed entirely of Indigenous people, functions as a subcommittee of the larger conference planning committee. The working group helps develop innovative sessions and activities around Indigenous interests, such as:
A preconference welcoming/orientation session for Indigenous attendees
A traditional blessing/welcome from a representative of the people on whose lands we are meeting.
A plenary or other high-profile session headlined by Indigenous people.
Papers/sessions focused on tribally run protected areas, traditional Indigenous ecological knowledge, sacred natural sites, community-conserved areas, traditional cultural properties, Indigenous ethnography, etc.
"Sharing Circles" — an alternative to the standard lecturer-audience model of teaching, one that is more in line with traditional Indigenous ways of knowing and learning.
An Indigenous Film Night or other social activity.
Of course, in addition to these activities Indigenous attendees have full access to the rest of the conference, which consists of nearly 100 sessions over the course of the conference week. The GWS Conference is a premier opportunity for Indigenous professionals, community activists, and other leaders to engage with the cutting edge of protected area conservation.
DOES ATTENDING THE GWS CONFERENCE REALLY MAKE A DIFFERENCE?
Based on the feedback we have gotten from recent Indigenous attendees, the answer is "yes." Here, you can read the words of two recent attendees, Deanna Beacham (Weapemeoc) and Angeles Mendoza (Mazahua), who say their lives have changed by attending the GWS conference.
WHO IS ELIGIBLE TO APPLY FOR AN INDIGENOUS PARTICIPANT TRAVEL GRANT?
Indigenous people from Canada, Mexico, or the USA (including US Territories) who are involved in the protection, management, or study of land, its biological/cultural systems and features, or Native land rights. "Indigenous people" in this context includes people identifying as American Indians, Native Americans, Alaska Natives, Indigenous Mexicans, First Nations, Métis, Native Hawaiians, Inuit, and Aboriginals. We regret that we are not able to support attendance of Indigenous people from outside of Canada, Mexico, and the USA.
These travel grants are for non-students only. If you are an Indigenous person and are either (1) a full-time student at a 4-year institution, OR (2) a student at a 2-year minority-serving institution, including tribal colleges, you can apply for a George Melendez Wright Student Travel Scholarship.
HOW ARE GRANT WINNERS SELECTED?
An evaluation committee (the majority of whom are Indigenous people) will award the grants based on a review of applications. Preference may be given to individuals who have submitted abstracts to give presentations at the conference. Financial need and geographical/cultural representation will also be considered.
WHAT DO THE GRANTS COVER, AND HOW MUCH ARE THEY?
Grants consist of a registration fee waiver, a stipend to underwrite partial costs of the recipient's travel to the conference, and a year's complimentary membership in the GWS. The amount of the grants will vary. The grants are not intended to cover the entire cost of attending; recipients will need to augment grants with other sources of funding.
WHEN ARE GRANTS ISSUED?
Grants will be disbursed by check (in US dollars) at the conference. No advance payments can be made, and any currency exchange fees applied to the check by the recipient's home bank will be the responsibility of the recipient. Grant recipients may be required to submit copies of their travel itinerary and receipts prior to the time of disbursement.
HOW DO I APPLY?
(Posted January 1, 2017) — The deadline for applying for a travel grant was December 31. We thank everyone who applied. Applicants will be notified before the end of January.
QUESTIONS?
Call the GWS office at +1-906-487-9722 or write to info@georgewright.org.