Still Winter Here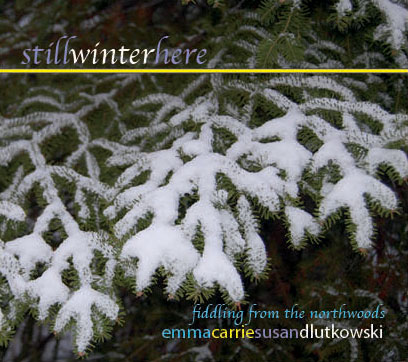 Still Winter Here is the debut CD of Emma, Carrie & Susan Dlutkowski. Subtitled "Fiddling from the Northwoods," it's an irresistible set of high-energy reels and jigs mixed with sweet, slow waltzes that give you a chance to catch your breath. Most of the tunes are from various Canadian styles of fiddling, along with a couple of show-stopping numbers from the USA. Fiddling sisters Emma and Carrie are a tight duo, whether playing in unison or doing harmonies, while their mom Susan keeps everything on track at the keyboard. On some tracks you will also hear Emma and Carrie's foot clogging, and, on one number, step dancing ... which you have to see to really appreciate!
If you love fiddling with flair, Still Winter Here is sure to please. But don't take our word for it ... you can sample the beginning of every track on the CD by clicking the tune titles below. The tune will automatically begin to play in a new window; once you're done, hit your browser's "back" button (or, in some browsers, close the window) to return here so you can sample another.
---
Ivor Scollay's Jig • Jack Smith's Favorite Reel • Tom Marsh Hornpipe
Chéticamp Jig • Fly in the Puddin'
Munster Bacon • Great Eastern Reel • Road to Errogie
Emma's Waltz • Major Harrison's Fedora
---
I like it! Where do I get it?
Still Winter Here is available for $15; order 3 or more copies for $12 each. Shipping is free to US addresses; for the cost to addresses elsewhere, contact us before ordering.
Online. You can order copies through Square Market, the secure online retail store of the Square credit card acceptance service.
By mail. Send a check to: Covered Road Recordings, 13269 Covered Road, Atlantic Mine, MI 49905 USA. Be sure to include your complete mailing address (we'll send your CD via US Postal Service) plus your phone and email, in case we have questions about your order.
In person. If you find yourself in the Upper Peninsula of Michigan, you can find Still Winter Here at the following locations:
Hancock: North Wind Books
Houghton: 5th & Elm Coffee House
Chassell: The Einerlei Gift Shop
We also play regularly at the Second Sunday Folk Dance (second Sunday of each month, October–April) at Fortune Lake Camp outside of Crystal Falls, as well with the U.P.'s leading folk group, White Water, at their gigs. Click the links for the latest schedules.
Questions?
Drop us a line ... we'll be happy to respond!
Thanks, and hope to see you at one of our performances.
Emma, Carrie & Susan